Post by Eddie Love on Aug 23, 2010 0:23:18 GMT -5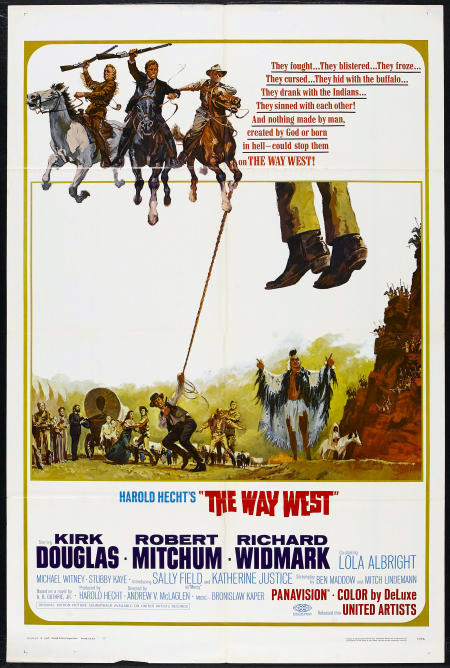 A perfect example of the bygone era of Hollywood Westerns is the 1967 epic
THE WAY WEST
. It's hardly likely these days that we'd ever see a film that falls into this sub-genre – the ensemble wagon-train picture. When I saw this as a youngster, it represented the last word in entertainment as it overflowed with action and incident. Seen today, it's a little more quaint, but still lively and entertaining with some choice scenes.
Kirk Douglas stars as an intense and visionary former U.S. Senator intent on leading a party of settlers to the Oregon Territory. He coaxes Robert Mitchum -- playing that old standby the leather-clad white man with the deceased Indian wife (see Garner, James in
DUEL AT DIABLO
) – to serve as the scout on the journey. Another big star of the era – Richard Widmark – rounds out the marquee as the rambunctious family man making the trek out West with his wife and son.
Remarkably, only two scenes in the whole film are interiors – every single other scene is set and shot outdoors. We see some great shots of vistas and sky, and every variety of terrain en route. The director, 60s go-to Western / Action guy Andrew V. McLaglen, doesn't bring the same fast pace and clean compositions he did the following year when helming
BANDOLARO
(just one of the three movies he directed that were released in 1968!) Perhaps, he's overwhelmed with the massive physical production, but you do have to marvel at the logistics of what's on screen. And there's at lease one marvelous set-piece involving lowering the train into a canyon, as well as several tense dramatic highlights.
The role of the laconic scout leading the party is one that Robert Mitchum could play in his sleep and there are whole scenes where he appears to be doing just that. He also dons a wig that makes him look like an old-timer going through a mid-life crisis and hanging out with the kids. But even phoning-it-in Mitchum, delivers the goods. Douglas, seems to relish the chance to play an unlikeable character, even as the veins pop out on his forehead while he tries to convince us he's sympathetic.
As a kid, I kind of fixated on the big-screen debut of Sally Field. (Field supplied a classic anecdote on the making of this movie during her appearance on
Inside the Actor's Studio
.) Sun-burnt, plump-cheek and barefoot she plays a sexually precocious girl who sets into play a series of events that result in tragedy. Of all the sequences in this episodic picture, the climax of this sub-plot is the strongest. Unfortunately, it revolves around a fairly nondescript member of the cast, Michael Witney (?) Elsewhere, Douglas has a terrific scene where he forces members of the party to discard their most treasured belongings – really he wants to ensure they're willing to make the same sacrifices that we've seen him make. There's also a powerful bit where he asks a former slave to whip him. And one character's decent into madness -- a bit that freaked me out as a kid -- is still pretty effective today.
THE WAY WEST
, may seem like a dated and square "family picture" when measured against more daring Western fare of the day. But there are also some fairly bold issues of sexual awakening and dysfunction dramatized as well, amid the generally good storytelling. Don't book the trip if you're looking for something transformative, merely a leisurely journey that gets you where you're going.