Post by Eddie Love on Feb 12, 2012 9:51:54 GMT -5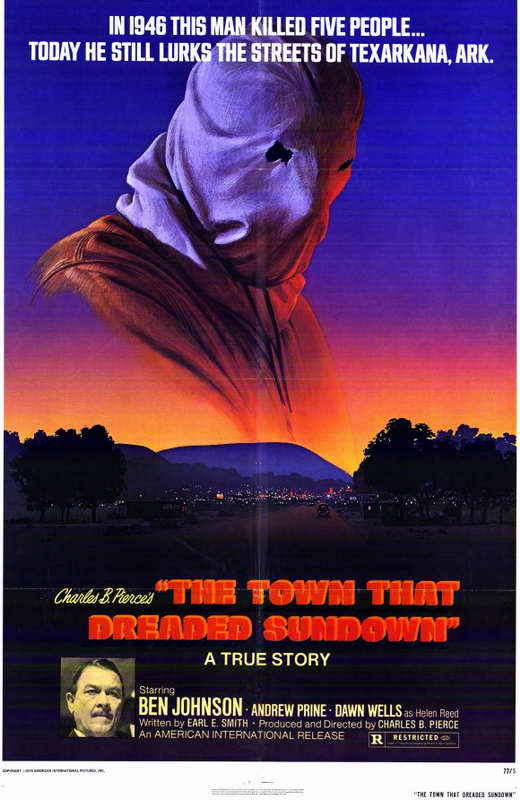 "The incredible story you are about to se is true…"
So begins the fulsome narration to the film
THE TOWN THAT DREADED SUNDOWN
an entry in the 70s genre of the regional, true-crime, drive-in shocker. It may seem like a cornpone, grindhouse curiosity today, but it undeniably packs a Southern-fried wallop as well.
The film recounts the days in the late 40s when terror gripped the town of Texarkana, straddling Texas and Arkansas. The area's, sunny, post-war prosperity is shattered when a crazed murderer emerges from the darkness near remote lovers' lanes and begins a brutal series of assaults and murders. The resulting panic and attendant police investigation consume the terrified inhabitants of the sleepy city.
Unfortunately, the investigation that the film portrays doesn't involve much in the way of any leads or suspects. There isn't that much to actually dramatize here; so large chunks of the film are taken up with rather leaden narration and some broad comic business. The film's director himself, Charles B. Pierce, largely administers these latter bits. He plays the role of the dumbass deputy who makes Barney Fife look like Eliot Ness. You see, in addition to being a terrible driver this hapless lawman also dons drag to try and entice the killer alongside a burly cop acting as his date. This may have cracked up the crowds who first saw this but, watching at home now, you'll be able tp clearly make out the sound of any nearby crickets.
I can see why the film incorporates these stabs at tension-relieving gags as an effort to give their drive-in crowds their entertainment fill, and I like sloppy movies that feel they have to cater to their audience and hit all the bases (ala Tyler Perry). It's only when the film's musical accompaniment underscores all this comic business that things get seriously irritating.
Elsewhere the cast isn't terribly memorable, in fact, some of those playing the victims are simply (possibly literally) amateurish. Oscar-winner Ben Johnson arrives as a legendary Texas Ranger who will lead the investigation and he has some presence, the rest of the cast less so, though the guy playing his second in command comes close. Unfortunately this actor is saddled with some very primitive "driving" scenes where he's clearly not really in a moving car and the "rainstorm" that hampers his progress is entirely fake as well. Dawn Wells (Mary Ann from
Gilligan's Island
) also shows up as one of the later victims.
While this film isn't much of a stylistic statement, I loved how it doesn't condescend to the rural setting. It has a very colorful production design that highlights the optimistic, post-war boom times the killer's acts shatter. There's a lot of naturalistic period detail here. (Although in one scene set at a high school dance the look of the kids seems very 70s and does little to evoke the late 40s.)
But the dark heart of the film are those scenes that reenact the brutal crimes of the killer and, seen today -- even allowing for the film's meager budget and artistic ambitions -- these passages are all stunning. In fact, they're heart stopping. Done up in a white sack with eye holes that looks like a Klan hood, the killer isn't simply a relentless, murderous automaton. He's tentative at times. The eyes register mad indecision and we see him hyperventilating under the cloth. Knowing there's an unhinged freak under there is a lot scarier than some superhuman phantom who can't be killed.
And the crimes themselves are the work of one seriously sick fuck. I believe these have been recreated with some degree of authenticity and that makes them all the more disturbing. For instance, in one scene he fashions an instrument of torture from a young woman's trombone. Just terrifying.
And these scenes don't just appall with the implications of the underling, fiendish acts, they're rendered with a precise cinematic vocabulary that adds to their ability to disturb. Piece creates some truly haunting images, and while other areas of this film appeal to a lowest common dominator, there are some artful touches here. A later scene of the killer stalking a cornfield zooms into a close-up with no music that is really powerful. This has to have been a clear influence on some of the breakthrough slasher films like
HALLOWEEN
that would arrive in a few years.
It's easy to imagine this film served as an influence on the coming horror craze. One can't help also feeling the real crimes depicted must have influenced other madmen, notably the Zodiac killer immortalized in David Fincher's epic serial killer procedural. The hokey mask and the lovers' lane victims were MOs shared by both psychopaths.
THE TOWN THAT DREADED SUNDOWN
is an almost deliberately sloppy mixed bag. But there's nothing offhand about the terror it raises even years later.