Post by Eddie Love on Nov 20, 2011 10:39:38 GMT -5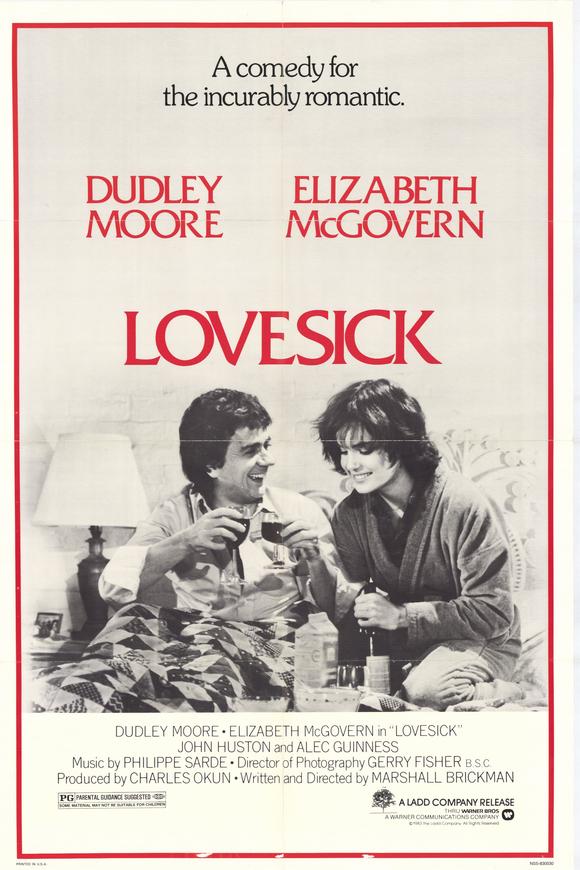 After stepping in for George Segal in
10
and his Oscar nominated turn in the smash
ARTHUR
, Dudley Moore was, for a time, the unlikely go-to lead in Hollywood rom-coms and farces, none of which saw the equal of those initial successes. These pictures are a pretty mixed bag and one of the first is the astonishingly low-key, rueful curiosity
LOVESICK
.
The picture was written and directed by Marshall Brickman and came after his varied career as a folksinger as well as the co-writer of
ANNIE HALL
and
MANHATTAN
, and the milieu here is very much in the realm of a Woody Allen picture. Moore plays a married, Jewish psychoanalyst who falls in love with a patient: Elizabeth McGovern as a Midwestern playwright. Hilarity would have perhaps ensued in the proper hands, but what follows is instead a rather tepid affair, not exactly bittersweet, but with a certain elusive charm.
For a comic star, Moore brought an ambitious take to each of his starring roles, rather than simply trotting out the same shtick from film to film. Here he's very amiable and has a number of nice acting moments, but the fact is this film just doesn't have that many real gags or jokes. It's not that the bits fall flat, they simply never arrive. I laughed out loud exactly twice while watching this.
And what would seem to be the film's central comic conceit never delivers. In another nod to his former collaborator, Brickman has Moore visited from time to time by his muse in the person of Sigmund Freud, played by Alec Guinness, who gives Dudley advise and comments on the action. (Not unlike the Bogart character in Allen's play
PLAY IT AGAIN, SAM
, a show Moore headlined in the West End.) This premise seems foolproof, yet it's somehow the most wholly unsuccessful part of the film. Guinness is just not lively enough to amuse and almost none of the lines he has are as funny as they should be. Also, the dynamic with Moore playing off the knighted English acting great only echoes wanly the memorable pairing he had with John Gielgud in
ARTHUR
.
The object of Moore's affection is early 80s It Girl Elizabeth McGovern, who a lot of us were infatuated with at the time. I'm not sure that people in Hollywood knew how best to use her talents. At times she comes across as a baby-faced sophisticate with an adorable warmth. Yet her earlier Oscar nominated turn in
RAGTIME
may explain why there are a couple of fantasy scenes of her in period dress, and the picture seems more comfortable with her in these moments. She does have some chemistry with Moore, though I don't know if it's really of the romantic sort. I wasn't, however, bothered by their age-difference and loved that they make no bones about the fact she's half a foot taller than him.
The cast is full of New York actors, some now stars, in early roles including David Straithairn, Christine Baranski (hotter than you remember) and most notably the late Ron Silver as an intense actor, one assumes, is based on Al Pacino. Again, the full comic potential in this, which Silver is doubtless up to, seems left on the table.
After the gag-filled antics of earlier hits, audiences may not have known what to make of this picture that teases with comic possibility but is, in fact, more a mellow romance than a farce. I feel like Brickman wanted to create a picture more in keeping with the wistful French pictures of the time, than the acerbic, one-liner fest people may have expected from him. I'm not sure he was up to the task in terms of mood or pacing. And, for all the film's not one, but two! high concepts, there isn't much follow-up in terms of plotting, (And Moore's marital problems are sorted out all too neatly.)
That said, there's something off-kilter and charming about this misbegotten little movie. For all its faults it doesn't offend or bore. And for people awash in the mechanics of today's RomCom output, this lightweight, but ambitious, confection will seem positevly alien.