Post by Eddie Love on Mar 19, 2011 9:30:01 GMT -5
It was a match made in Heaven, wasn't it? The ultimate Noir star takes on the role of the bard of American Detective fiction's seminal creation. Sure, the actor in question may have been a little over-the-hill for the assignment, but he was still as powerful a presence as ever. And unlike every other screen incarnation of this gumshoe, this picture would be a period evocation. What could go wrong? And according to many fans of both Robert Mitchum and Raymond Chandler, not much did; both camps have embraced the screen version of
FAREWELL, MY LOVELY
from 1975 for years. As a card-carrying member of these sects, I once held this picture in high regard as well.
But these days, I'm afraid, not so much…
The novel had been adapted twice before, once as an entry in the Falcon series and again as an A-picture calling card for a newly tough Dick Powell, up until then a song-and-dance man. That picture,
MURDER, MY SWEET
(renamed as the novel's title still sounded like Powell's old musical fare) is somewhat overrated, it pales next to Hawks / Bogart's
BIG SLEEP
(what doesn't?) but it's still pretty good. The story in all three pictures roughly centers around private eye Phillip Marlowe being drawn into a web of violence surrounding a giant lug named "Moose" Malloy, recently sprung from the Q. He's looking for his old girlfriend, a dime-a-dance girl named Velma who he's lost touch with. Marlowe helps him look, and in the course of the action further tangles with stolen jade, and shady mobsters and a loose society dame, played by Charlotte Rampling.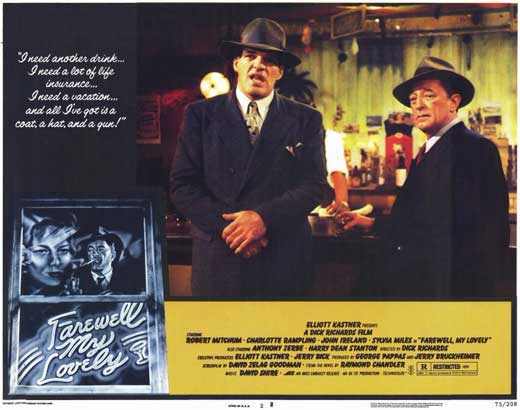 I always find it interesting that those movies that try to re-capture the classic private eye films always employ a voice-over narration that almost none of them featured. And the narration here is laid on far too thick. We get announcements like "I stated to walk away…" Well, no shit, Phil, this isn't radio – we can see what you're doing. Plus, in the novel everyone speaks with the same stylized patois, here it just seems to be Marlowe who does and you don't understand why. He comes off as a wiseass, out of sync with the rest of the town; no one else here talks this way. There are scenes where the other actors just seem to be uncomfortably standing around while Mitchum finishes some longwinded and tired line of patter. That's why, with only a couple exceptions, the other characters in the picture don't really register, while in the novels, even hoods who menace Marlowe for a few paragraphs are expertly drawn and pop off the page. (Also for a story narrated by Marlowe, we see scenes he couldn't possibly know about.)
All this florid pseudo-Chandler verbiage starts to take its toll, and get's irritating if not exhausting. It undermines Mitchum's work which is otherwise solid stuff, if not the delicious turn I once found it. His presence carries him and the picture along, but he's capable of so much more and at times you feel he's being used simply as just another element in the period production design, a reminder of the story's era, like an old Packard.
Seeing the film today, I'm struck by the odd liberties taken with the story. Like the Powell version, Moose hires Marlowe, while in the novel he never does. Marlowe regards Moose as a criminal, and indeed he's on the lame for killing a black nightclub owner. The Powell version cuts that bit, possibly because it meant Marlowe doesn't then have to stand up for the guy as he does here, claiming Moose acts in self-defense, even though he's not in the room when the crime happens. Another liberty involves the character that serves as the connective tissue between the Moose story and the Rampling character being omitted – possibly because they didn't want the 60-something Mitchum seen flirting with too many young things. They've also added this sad-sack character played by Walter McGin, a broken down musician with a black wife and child, whose fate fuels Marlowe's conscience.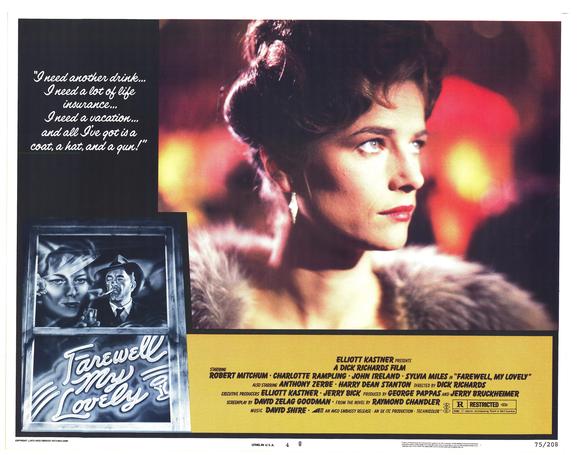 The secondary performances that do make an impression here are led by Sylvia Miles as the boozy, floozy Jessie Florian. In fact, she earned an Oscar nomination for her brash, showy turn, which is offset perfectly against Mitchum's underplaying. Other notables in the cast include early appearances by Harry Dean Stanton and Sly Stallone. And in one scene only, as the aged husband of the central femme fatale, the "dime store Dostoyevsky" himself the great Jim Thompson cameos. His wife is played by Charlotte Rampling, never lovelier but giving a performance that's so languid it doesn't particularly convince or entertain.
Far from the echoing the cynical re-examination of the genre on display in
CHINATOWN
or
THE LONG GOODBYE
, this picture is determinedly old-fashioned and in fact there's a fair amount of sentimental bullshit in it. It comes across as if you're going to get a gritty take on the earlier era, but instead, it's fairly staid and feels almost like a TV movie, except for some violence, nudity and foul language.
Now, I could be wrong. If I saw this on a nicely restored DVD or Blu-Ray or back on the big screen, I may cut it some more slack and return to the times I reveled in it's period flavor. But until then, I'm going to get even more heretical here: I will now say I prefer Mitchum's much-maligned
BIG SLEEP
follow-up to this movie.